Continue being the desirable company
​
Hanshichi Toyoshima, President of TOYOSHIMA Co., Ltd.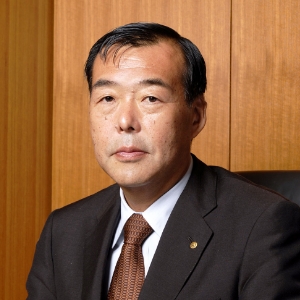 In 1841, the first president Hanshichi Toyoshima started a fiber wholesaler "Wataya-hanshichi" that is the beginning of TOYOSHIMA. Since then, in its 180-year history, we have expanded our business domain in response to changes in the times, and have now been able to develop as a textile trading company that handles everything from raw yarns and raw materials to final products.
In recent years, there have been rapid changes in the environment surrounding the textile industry, such as the diversification of consumer needs and the reorganization of the distribution structure. Taking these changes as an opportunity, we believe that it is our mission to create new materials and new fashions while further deepening our efforts with our business partners to meet the needs of the times.
We are developing businesses in all areas of the textile industry, from materials to products, but the destination of any business is always the consumer. In other words, any business is established by responding to consumer needs. As consumer needs continue to diversify and become more individualized, we would like to place greater importance on developing our business with the consumer in mind, not only in our products, but also in our materials division.
My motto is "Sincerity". Aiming to be a trusted presence, we work on things honestly and single-mindedly. I believe that this is also TOYOSHIMA 's corporate stance. Aiming to be a company that can continue to develop into the future, we will take the next step without fear of failure.
Philosophy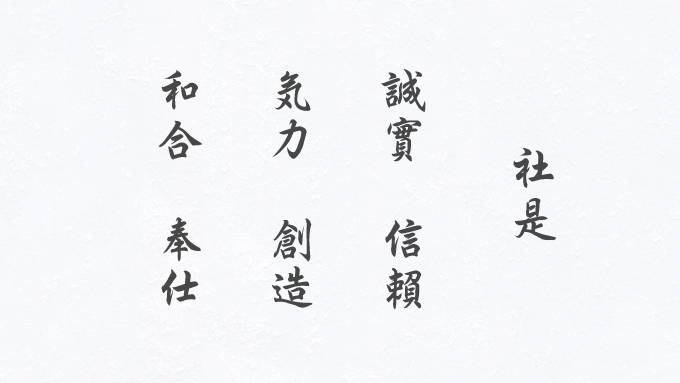 「社是」は、1968年に会社設立50周年を記念し制定されました。
Based on the traditions of "honesty and trust" and "steadyness and positiveness" that have been passed down since the company's founding, it expresses our approach to business and our sense of values.
『商売をするには信頼が必要である。信頼されるには誠実でなくてはならない。そのほか、企業にはバイタリティー(気力)が求められる。創造とはものを製造するのではなく、商品企画である。お客様の新規開拓も販路の創造である。自分一人では総てを成し得ない。何よりも社内の和合が大切であり、お客様・業界・地域との協調、和合が必要である。企業の存在価値は社会へどう奉仕できるかによって決まる。消費者ニーズの物づくりやお客様に喜んでいただけるサービスの提供がそうである。』
It is the code of conduct for all employees, and at the same time it is TOYOSHIMA's "Corporate Philosophy" that forms the basis of all management activities.